After saying yes to your wedding dress, it is now time to channel your energies to another critical component of your wedding look- the bridal hairstyle.
Bridal hairdos are often not given as much attention as makeup and footwear choices. This must change. We say this because a bride's hairstyle also speaks about her nature and personality.
For example, a loose wavy hairdo usually represents a bride with a fun-loving and playful personality, whereas a bride with a tight, sleek bun is someone classy and elegant.
Therefore brides need to choose fashionable hairstyles for their special day that best screams their style and matches the vibes of the occasion.
And who said bridal hairstyles have to be stuffy and boring? Instead, they can be chic, trendy, and fresh! Keeping that in mind, here is a list of 10 bridal hairdos that are sure to win you many compliments on your D-day.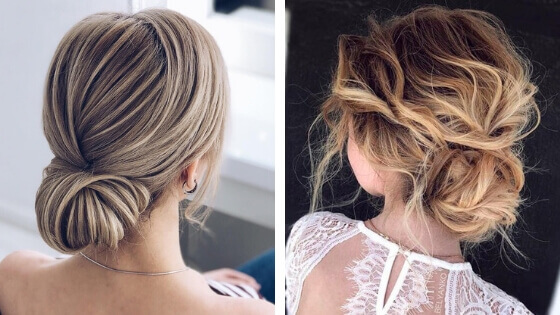 Romantic updo 
If you grew up watching fairy tales and loved the princesses' hair, the romantic updo is for you. These hairstyles incorporate many feminine details like flowers and braids. However, they are not too polished or smooth.
Avoid braiding your hair too tight. Let a few strands loose to soften the look and also flatter your beautiful face. Add in some small flowers like white blooms as they compliment the hairstyle and infuse that little extra touch of romance.
Smooth long curls
This hairstyle is ideal for brides who are having a beachside wedding. It is also suitable for those who have naturally long tresses and want to show off their gorgeous smooth curls.
To make this style genuinely shine, use an anti-frizz product or a finishing spray to prevent the curls from getting too fluffy. It will also help your hair stay sleek and shiny all day.
Smooth long curs look great when paired with accessories like headbands, flowers, and clips. You can also choose a half-up style and let the other half loose underneath.
The top knot
Surprised? Well, don't be as there are no rules against wearing your favorite go-to top knot on your nuptials too.
You can even give it a fun twist by plating the back of your hair into the bun. This tiny bit of detail will add a playful edge to the sophisticated hairdo.
You can add volume to the high top bun by letting the natural bumps and ends show through. To jazz things up more, use some embellishments around the bun.
Half Up Half Down
If you are in a dilemma about whether to put your hair up or down, then this hairstyle is a good idea.
The half up half down hairstyle lets you have the best of both worlds.
It will allow you to highlight your natural hair length and volume and style it with pretty and soft waves, thus giving the hairstyle a feminine and romantic finish.
Apart from that, you will also have the option of either braiding or twisting your hair and use funky hair accessories to make your bridal avatar look even better.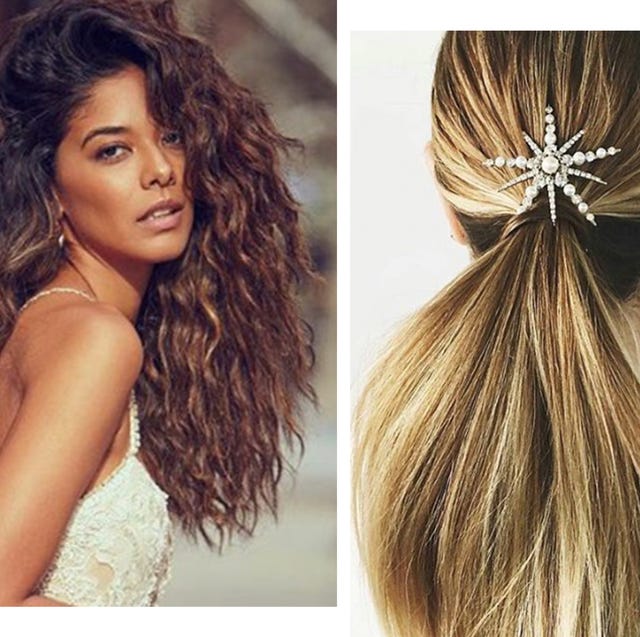 Side Part
How you part your hair can change your look completely. A side part is a gorgeous look that works goes well with different hair types, lengths, or texture. It puts the spotlight on your best features- your eyes and cheekbones.
As it is so sophisticated and sultry, it is excellent for brides who want to look extra charming.
Although a side part looks splendid with any hairstyle, try tousled waves as it is the classic way of styling it. If you want a more edgy look for your wedding, try a deep side part.
Fishtail braids
Do you find the regular braids too dull for your special day? If yes, then try a fishtail braid instead. It looks super pretty and intricate. Moreover, they are effortless to create.
They also lend a more bohemian vibe than the other plaits like Dutch or French. To add a beautiful twist to the hairstyle, weave a colorful silk ribbon of your choice through the braid or use flowers or other hair accessories.
Fishtail braids are suitable for brides who want to keep their hair out of the way but do not want to gather them into a full updo.
Another advantage of the fishtail braid is that there is no need to worry about pieces coming loose or hair frizzing as the messier it gets, the better it looks.
French Twist
It was immensely popular in the 1950s, '60s, and '70s and is slowing, making a massive comeback. This wedding hairstyle gives brides a more traditional and polished look.
The best reason for choosing this look is that it is so easy to do. Gather your hair and twist it until it folds in on itself. Once done, secure it with slides, pins, or even a comb.
The French twist is a gorgeous hairstyle that is apt for brides who want to look classy and sophisticated.
Braided Halo
Looking hard to find the perfect bridal hairstyle for your balayage or highlighted hair? If so, the braided halo is the right choice for you as it flaunts the different tones of color on your hair beautifully.
It creates an angelic wedding day look that is soft and effortless. As it is supposed to look imperfect, you do not require advanced braiding skills to perfect this look.
The braided halo is so beautiful that you will want to style your hair this way every day!
Pixie cut
Got a pixie cut? No problem! This hairstyle surprisingly offers a lot of flexibility when it comes to bridal hairdos.
There is no denying that short hairstyles can look fantastic when accessorized with flowers and headbands; however, altering the texture can provide a whole new look.
Use some texturizing clay and part the hair to one side for achieving a slick look. Also, sweep the hair forward to create an angled look that will draw focus to your eyes.
Classic chignon
No bridal hairstyle list is complete without mentioning the classic chignon. It gives a polished look to any bride and goes particularly well with slip-style bridal dresses.
The classic chignon is perfect for modern brides who believe in minimalism. You can choose to add in a few braids or use delicate hairpieces if you like or leave. The result will be gorgeous either way.
Conclusion
There are no hard and fast rules when it comes to bridal hairstyles. However, whichever style you choose, it must make you feel confident and let you enjoy your big day to the fullest!
We hope that after reading this article, you have found enough inspiration for your bridal hairstyle.